Hadaf College (a project of Punjab Group of Colleges), takes pride in providing high quality education in the heart of Peshawar. With purpose-built separate campuses for boys & girls, Hadaf College offers state-of-the-art facilities with highly qualified and dedicated faculty. With effective teaching methodologies and a hands-on learning approach, our students secure admissions in the top medical, engineering and IT universities of Pakistan
Programmes at Hadaf Colleges
Hadaf College offers purpose built campuses featuring state-of-the-art facilities backed by an experienced faculty, providing you a variety of courses to choose from.
F.Sc
Pre-Medical
This programme aims to deliver diverse knowledge and education related to medicine and other related fields.
F.Sc
Pre-Engineering
This programme serves as a gateway to prepare our students with practical knowledge and education of engineering fields in order to achieve their place in the top engineering universities of the country.
F.A.
Our F.A programme is designed for students who are interested in developing careers in the fields of arts, humanities, journalism, media and other related fields
FCS/ICS
FCS/ICS programme is designed to enhance the skills of our students in computer science and information technology.
BS
English
Our BS English program helps you expand your understanding and knowledge of regional, historical, and cultural change and continuity in literature & linguistics. We offer this degree with affiliation to Peshawar University.
BS
Computer Science
Our BS Computer Science program prepares you for the technology jobs of future in IT and computing sectors. We cover all essentials from software engineering to programming, information security to database, and artificial intelligence.
Clubs &
Societies:
Apart from academics, Hadaf College provides extra classroom activities to their students in the form of societies & clubs for Dramatics, Music, Debating, literary, IT, sports and more.
Annual Sports
Gala:
At Hadaf College, a mega sports event is organized annually to encourage extra-curricular and sports activities. Our students participate in local, regional and nation-wide competitions.
Study &
Recreational
Trips:
Hadaf College offers vibrant student life with its recreational activities through trips to movie cinemas, seminars and adventure tours.
Welcome &
Farewell
Events:
From the time our students join us till the time they leave, Hadaf College arranges a celebration of the memorable moments of fun and joy with their students each year.
State of the art facilities:

Purpose-built
Campuses:
Hadaf College ensures students have a comfortable place to study and excel with purpose-built campuses featuring load-shedding free campuses, fully air-conditioned classrooms & halls, use of IP boards and projectors for lectures, virtual clinic for all students & more.
Well-Equipped
Labs & Libraries:
Hadaf College features extensive academic libraries, stocked with invaluable books on IT, business, literature, language, religion, philosophy and other disciplines. Punjab Colleges ensure practical learning with well-equipped labs with the latest & greatest equipment.

Microsoft
Certifications:
Hadaf College in collaboration with Microsoft is offering free Microsoft Office Specialist (MOS) Certification to its students in three categories which are MS Word, MS PowerPoint and MS Excel.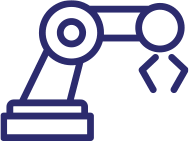 Robotics
Lab:
Hadaf College offers exciting future in robotics education to teach essential cognitive skills, that will enable the students to continually learn, re-learn and adapt to inevitable progression of technology and inter-disciplinary work roles
Prioritizing Health &
Safety Amidst COVID-19
E- Learning:
Hadaf Colleges tackled academic crisis amidst COVID-19 through the introduction of E-learning. Hadaf E-learning provide their students the privilege of comfort and safety of their home with the accessibility of Student portal and app that provides features like online classes via Microsoft, video lectures, 450+ past papers, 15000+ MCQs and customized self-assessments. Students can also access complete academic information like attendance, exam results, timetables and more.