ABOUT HADAF GROUP OF COLLEGES
Hadaf Group of Colleges is a hallmark project of Punjab Group of Colleges (The largest educational network in Pakistan) that has laid its first brick in the city of flowers "Peshawar" for delivering that quality of education which is craved by every academically inclined individual.
How to Discover a Right Field?
The standard of education at Hadaf colleges not only helps students to get a world-class degree but also gives them the experience to discover a field for which they are passionate about literally. Students are steered by core values such as:
Innovation approach
Agility & Teamwork

Why Choose Hadaf Group of Colleges?
Punjab Group of Colleges got much appreciation from all over Pakistan. Even world-class international universities acknowledged a strong reputation. Do you want to know why is it so? Why Hadaf Group of Colleges are at the No. 1 position whenever you talk about "the best colleges" within the surroundings of KPK?  There are 6 important reasons:
Solid innovative programs
Top positions in boards each year
Proven academic excellence
Producing Leadership abilities
Dedicated and well-educated staff
Supportive learning environment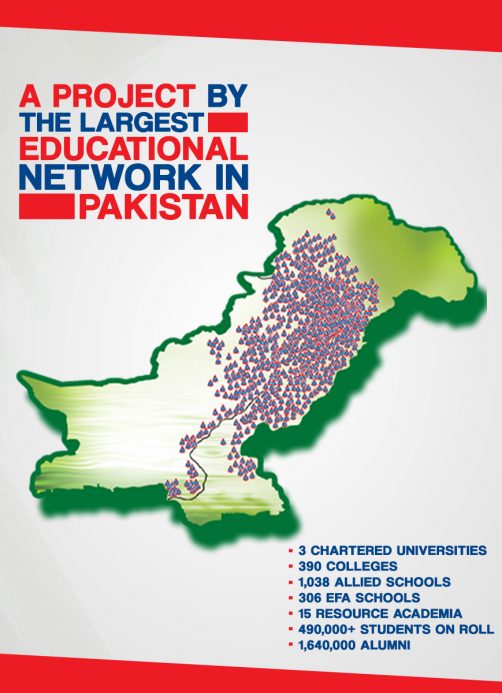 The foremost aim of the institution is to spread quality education in every corner of KPK which will also uplift the literacy rate of Pakistan. Likewise, the management believes in polishing skills and enlightening minds of the youth so that they can learn and think rationally while succeeding in the competitive world.
A Productive Environment Is a Backbone for Success:
Students definitely get excellent marks in the fields of their choice while securing remarkable results in Intermediate and Bachelor programs.
Hadaf Group of Colleges has a great focus on student's brilliance and achievements in sports and co-curricular activities. Because each student needs additional healthy activities to maintain the balance in life.
HGC's hallmark project offers a blend of the first-class faculty accompanied by best teaching methods and well-reputed management. This is because a productive environment is always a handful for the students in effective learning.
Moreover, students are given state-of-the-art facilities; purpose-built campuses, facilities, 24 hours generators availability, and security. All the prerequisites ensure to deliver a creative and impactful environment for shaping the future of the individuals.
Hadaf Group of colleges provides outclass services for students. Some of them are given below:
Modern science laboratories
Modern digital libraries
Air-conditioned rooms
Labs with the cutting-edge computer systems
Secure Hostel facilities
All these fundamental elements are given in each campus to make the innovative assessment programs and experiential learning more productive.
Improve Your IQ Level & Lead the Industry:
Seasoned professionals devise the industry-driven curriculum in order to produce "leaders" and that's the first priority of Hadaf Group of colleges. The students are given several opportunities to execute their natural analytical and management skills in a professional way. It would obviously enable young students to perform well in
Strategic Management
Leadership
Team Management
Communication Skills
Organizational Management
Planning Projects
The focus is on the preparation for brilliant mindsets that can shape sustainable tomorrow.
Hey! Stop!!! Have You Checked These Facts & Figures?
Please also note that PGC has a key role in raising the standard of education in almost every major city of Pakistan. You are entering into a well-organized institute so, let's quickly take a look at some milestones.
3 chartered universities under one umbrella
Almost 400 + Punjab colleges campuses
1038 Allied Schools in all over Pakistan
Resource Academia (15)
Over 0.5 Million students are enrolled
7 Million Alumni
 So, join your campus with full self-assurance, dynamism, and persuasion because you are going to be among those who are serving the nation with pride in private and public offices of the country.
A PROJECT BY THE LARGEST EDUCATIONAL NETWORK IN PAKISTAN