HONESTY, RESPECT, TOLERANCE & DISCIPLINE
Hadaf Group of Colleges upholds a rich culture based on its well-maintained traditions. The Group emphasizes on its institutional values that embody the spirit of Honesty, Respect, Tolerance and Discipline. These values are of major significance as they provide foundational ground for growth and progress.
Being the project of the largest educational network, Hadaf Group of Colleges maintains the implementation of four core educational values that cater to a nation-building phenomenon. The main purpose of establishing values is to build a foundation that reflects the culture of the institution and indoctrinates the values in its students.
At Hadaf Group of Colleges, this unique culture is adopted from the high authorities to the staff and ultimately, to its students. The set is portrayed as an example that gives out a vision and works as that binding force of the institution which has the potential to be transformed into a family. The four core values foster reciprocal ground for growth, learning, healthy cooperation, empathy, respect and mutual affection while exhaling positivity all around.
Let's define our core values:
Honesty is the capability and potential to do and sat what we honestly consider to be wholly right, even if this aspect fully goes against our selves or against the ones we love and care about.
Respect owns the capacity to speak and behave in such a way that shields and accelerates self-image, honor, and dignity of others.
Tolerance enables the person to patiently deal with ev eryday chores and value the presence of other behaviors and opinions whether it is liked or disliked.
Discipline is the potential to do what is right for us and also, others. The act of discipline happens when nobody is observing and by exercising self-control.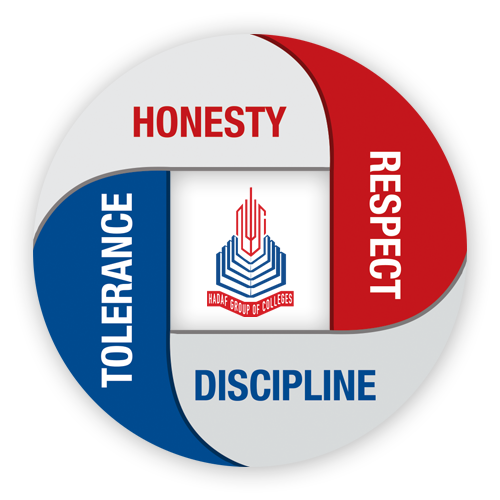 A PROJECT BY THE LARGEST EDUCATIONAL NETWORK IN PAKISTAN