Whatever tech specialisation you are interested in, studying BS Computer Science will be fun and challenging at the same time. For sure, having a passion for technology is essential. However, it will be a great idea to know what you are getting into before you embark on that path. So, what things should you prepare before pursuing your studies to get a bachelor's degree in computer science? Let's find out the 6 essential things to prepare! 
Understand What Computer Science Means to You
First, before deciding to pursue a BS Computer Science, you need to ask yourself some questions like: 
Are you interested in computer science as it can make good money?  
Do you have a childhood dream to become a professional in computer science?  
Are you curious about the art of bringing artificial intelligence to life? 
The questions above will help you understand your interest in computer science, be it algorithms, computer security, or software engineering. Then, you can fully immerse yourself in it because computer science is a completely wide field.  
Moreover, by building a foundation for your study around your interest, you will get to see the big picture. As a result, this big picture will surely fuel your passion. 
Overall, regardless of what computer science means to you, the key is to hold on to it strongly. This way, when your study journey gets challenging, you will have the willpower to tackle the hassles.  
Never Expect to Learn Everything at Once 
Another main thing you should focus on is that it is not about asking yourself what you should learn in BS Computer Science program. Yet, it is more about how you should learn it properly.  
Here is one thing to note; not all the courses can cover all the skills you might need in a job. For example, if you wish to be a software developer, you need to spend a considerable amount of time on programming languages. Hence, you may need to go beyond your study schedules for this.  
In this context, you need to take the initiative and take things into your own hands. This means that you should schedule your time properly, even after completing your core assignments. Then, you should have time to hit Google and find out what type of computing skills the tech companies are looking for.  
Prepare Your Discipline Habits
You surely know that programming is not easy at all. In fact, you will need long hours of staring at a screen or planning code structure to analyse a problem. No doubt, it might be uncomfortable at first. To cope with this, you need to practice early. For instance, you should plan a programming schedule and carry it out. Therefore, you must find out your own discipline habits and what gets you into the flow. Whether it is listening to music on headphones or having hot coffee, you should do what feels comfortable for you.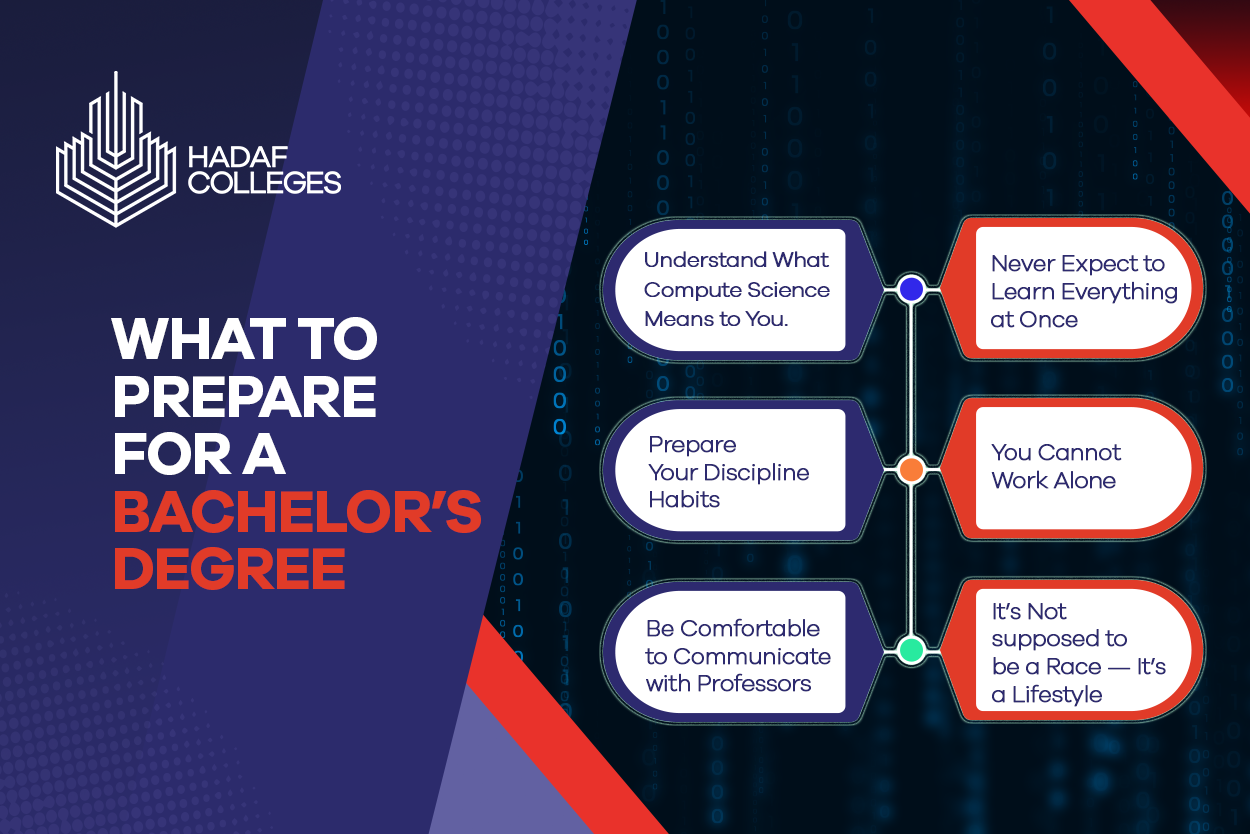 You Cannot Work Alone
Of course, being able to work on your own and independently motivate yourself is great when studying BS in Computer Science. But do not forget that you cannot work alone, and you will not be alone in the workplace as well. Instead, you will be most likely to work as a part of a team. Accordingly, teamwork takes some skills you need to polish continually.  
In this context, when you find a good study group, you should enjoy meeting with your peers, sharing ideas, and working on interesting projects. After all, a few genius minds come together and work on an invention will surely make better results. 
Be Comfortable to Communicate with Professors
Remember that professors are there to help you in your study. And you know what; talking to them is not as scary as you may think! In fact, you should feel comfortable sharing any questions or concerns you have with your professors.  
Keep in mind that the more individualised feedback you can get for your studies, the better you will perform in class. Simply put, taking steps to establish a student-teacher relationship is one of the most effective ways to study all the courses in your BS Computer Science. 
It's Not Supposed to Be a Race — It's a Lifestyle
Don't get rush when trying to master the courses in BS Computer Science. Also, you should note that the goal is not to win over all the other students and get first-class honours. Instead, the process of learning and attaining your bachelor's degree is what makes computer science meaningful to you. 
The Beginning of Your Great Journey as a BS Computer Science
Definitely, all things mentioned above are just plans you should prepare. However, they will not be useful unless you follow through on them. In the end, popular and reputable colleges are platforms for you to learn all the marketable skills. Hence, your goal should not simply be to complete your courses. More than that, you should learn to engage professionally as a computer scientist. In addition, when you encounter some difficult challenges that tempt you to quit, try to fall back on what computer science means to you. Believe it, this will help you find the strength to keep moving in pursuing your degree in BS Computer Science.  
With that said, you should not wait again or waste your time. Instead, you should start preparing and begin your great journey for a 4-year bachelor's degree in computer science at Hadaf Colleges. So, get your admission today!