Are you wondering what college life feels like? And should you really go to college? For some of us, it might be a difficult decision to make. Definitely, you want to know what to expect from the college experience before you hit campus, right? So, what is college life like? Is college worth it? And what are the reasons to get BS admission at Hadaf Colleges 2023? Keep reading to find out! 
Is College Worth It?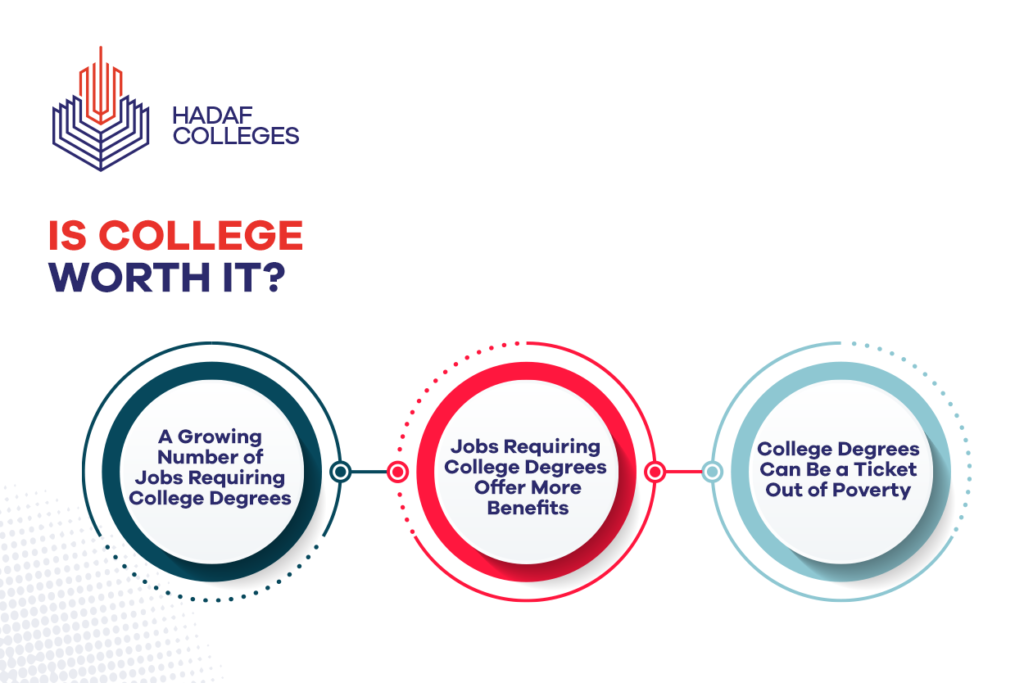 Let's be honest, the main point of going to college is getting a bachelor's degree, right?  
For sure, academics are the main reason you decide to go to college. But do you know that your schoolwork will make up a big part of your life? 
Yes, speaking of if college is worth it, let's know the reasons you should get a college degree! 
A Growing Number of Jobs Requiring College Degrees
In these competitive business days, many companies search for employees with, at least, a bachelor's degree. Simply put, there is a growing number of jobs requiring employees with university degrees.  
Another concern we should also note is that there is automation implementation on a large scale. What does it mean?  
It means that machines and robots will replace those jobs that don't require excellent knowledge, creativity, or technical skills. However, when you pursue your bachelor's degree in college, you will not have to worry about getting replaced by those robots.  
Jobs Requiring College Degrees Offer More Benefits
Definitely, those companies requiring employees to have college degrees provide more benefits for the jobs they offer.  
What are they? 
Better income

 

A more flexible work schedule

 

The ability to work remotely

 

Medical insurance

 

Life insurance

 

More paid vacation days

 
But how do these benefits work?  
Of course, you might not enjoy all of them at the same workplace. However, having these benefits will surely make a job much more exciting. 
College Degrees Can Be a Ticket Out of Poverty
We know there are still some low-income students who face many challenges in their life. Although attending university might be a small effort but it is their ticket to a better life, out of poverty. In fact, a college degree will enable them to give back to the same low-income communities.  
What Is College Life Like?
When you decide to get a college degree, you will get the chance to enjoy memorable college life.  
So, what is college life like?  
College Life Makes You More Responsible and Mature
When you enter college life, first, you might find a culture shock. But do not worry, it happens for most students.  
During university, you will get a lot of work and responsibility on your shoulders. Well, your professors will not come to remind you about projects or assignments. Instead, it will be up to you to create a schedule. Then, you must stick to it, find a balance between studies and fun, and not end up with a burnout. As a result, all these challenges will make you more responsible and mature.  
Help Your Networking and Making Connections
During your college life, you will meet many important people in your life; be it best friends, business partners, who knows?  
Thus, there will be more opportunities to connect, share ideas, and express yourself. Simply put, college life is perfect to build your network. Additionally, this is where you should be open and not take for granted the special relations you will build as a student. After all, you never know what might happen and how these people will reshape your entire life. 
The Chance to Meet Other People, Backgrounds, and Mentalities
Do you know that there are about 8.1 billion people on the planet? Accordingly, they have diverse backgrounds, life stories, cultures, and dreams. Well, with many unique perspectives and ideas out there, it's easy to get trapped in your own bubble. In fact, some of us often fail to understand what others might think or feel. Why?  
The reason is because we have our own things to worry about. 
Studying with other students from diverse backgrounds can change your preconceptions and open your mind. It will be very interesting to hear another person talking about their traditions. Eventually, it will be even more interesting to find common ground and understand each other. Ultimately, this will increase your awareness of other people, backgrounds, and mentalities.  
College Students Get Career Support and Guidance
No doubt, you will discover that many universities go above and beyond to support their students. Better yet, some colleges also help their students find jobs after graduation. This is achieved through career counsellors, guidance programs, internships, and job placements.   
This means that you can gain a lot of hands-on experience during your studies. Now don't take it lightly; experience often makes your CV stand out in the eyes of HR specialists and employers. All you need to do is being open to new experiences. Plus, you need to attend a university with supportive programs, one of the best options is getting admission at Hadaf Colleges! 
Get BS Admission 2023 at Hadaf Colleges Today!
So, are you ready to enter the wonderful college life and get the beneficial experience from it?  
No need to waste more time now, you can get BS admission 2023 at Hadaf Colleges today! With effective teaching methodologies, Hadaf Colleges provides secure admissions you should not skip! Hadaf Colleges offers hands-on learning BS programs for 4 years and we are affiliated with Peshawar University.