BS English is one of the popular degrees related to literature and linguistics. It is not just an educational stream but also opens the door to a multitude of opportunities in national and international spheres. This is because, in this global village, English is the major source of communication to date. Therefore, learning and earning through it is a popular trend and way of living in modern times. Hadaf Colleges offers BS English in Peshawar. This article covers the scope and benefits of choosing this degree for the undergraduate level of education.  
BS English
In-Depth Analysis 
Hadaf Colleges offer a rich, authorised and aligned course curriculum per the Board of Intermediate and Secondary Education (BISE) Peshawar guidelines. The course is subdivided into eight semesters. The course includes a variety of subjects from Linguistics, Literature, Phonetics, Morphology, Syntax, History, Criticism, Poem and Pros. And much more You can go through the details.  
Advantages to Opting for BS English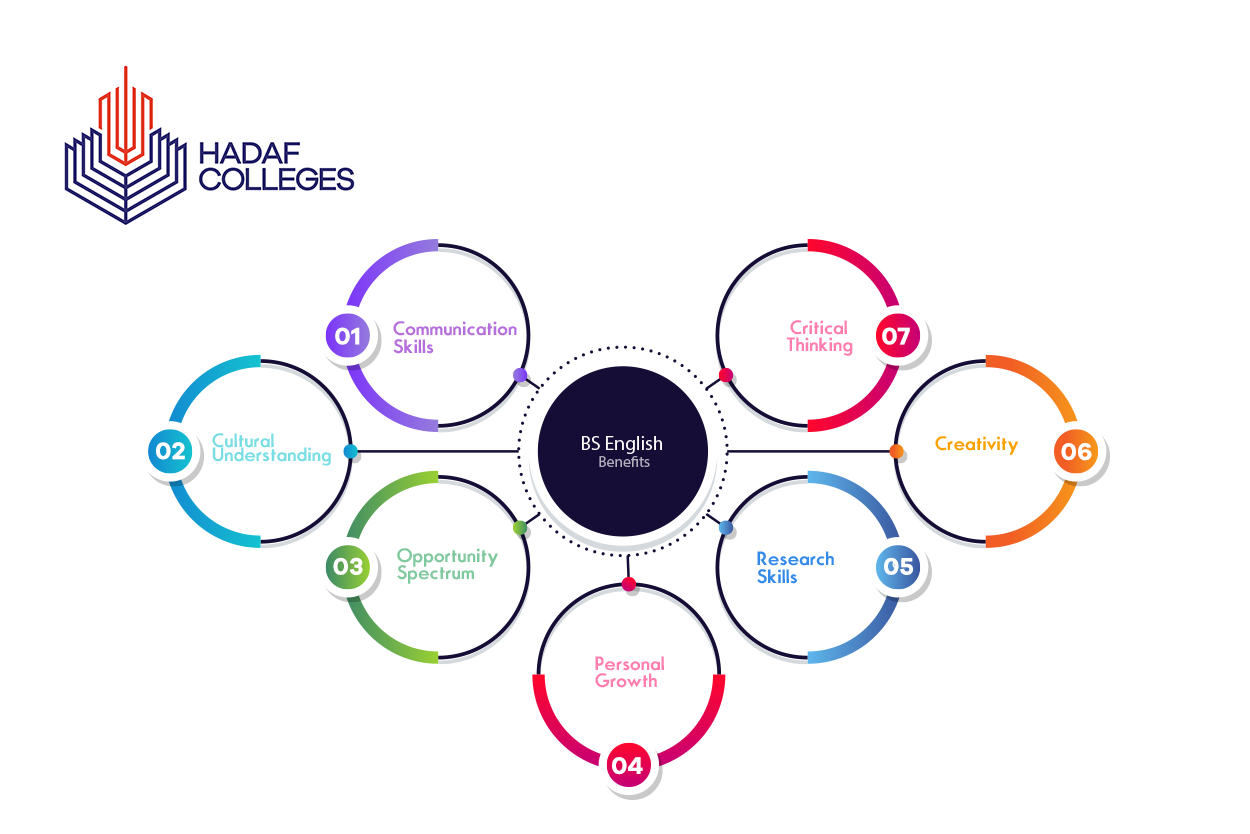 There are several benefits of pursuing a BS in English. Some of the key benefits include: 
Strong Communication Skills


A degree in English helps students develop excellent written and verbal communication skills, which are highly valued in today's job market.

Critical Thinking Abilities


English majors learn how to analyse and interpret complex texts, helping them develop strong critical thinking abilities that can be applied to various situations.

Cultural Understanding


The study of English literature exposes students to a wide range of cultures, perspectives, and historical contexts, fostering a deeper understanding of the world around them.

Broad Career Options


Graduates with a BS in English have a wide range of career options available to them. These may include fields such as journalism, publishing, teaching, advertising, marketing, public relations, law, content writing, copywriting, teaching, and various creative industries.

Adaptability and Flexibility


English majors develop strong problem-solving skills, adaptability, and flexibility, as they often require thinking creatively and finding innovative solutions to various challenges.

Research Skills


 Throughout their studies, English majors learn to conduct extensive research, gather and analyse information, and synthesize complex ideas, providing valuable research skills applicable to different fields.

Enhances Creativity


Studying English literature often inspires creativity in students, allowing them to think outside the box and develop their own unique ideas and perspectives.

Proficiency in Language


English majors typically have a high level of proficiency in English, which can open doors to opportunities for translation work or teaching English as a second language.
Personal Growth


Studying literature and writing allows students to explore and understand themselves and others on a deeper level, fostering personal growth and self-reflection.

Foundation for Higher Education


A BS in English can serve as a foundation for further graduate studies in various disciplines, including literature, law, humanities, and social sciences.
Overall, a BS in English provides students with a versatile skill set that can be applied to many career paths while also fostering personal growth and enhancing their understanding of the world. 
Peruse BS English in 2023 
You can also enjoy all these benefits once you complete your BS English from Hadaf Colleges, Peshawar. As a general overview, it is essential to know that Hadaf Colleges Peshawar are the hallmark project of the Punjab Group of Colleges (PGC). The core competencies include the details mentioned in the text below.  
Quality Education

 

Qualified and Trained Staff

 

Separate Campuses for Boys and Girls

 

State-of-the-art Facilitated Campuses

 

Arranged Transport and Hostels 

 

Well-Equipped Classrooms

 

Book-Stocked Libraries 

 

Updated Labs and Operational Laboratories. 

 

Scholarships & Financial Assistance

 

Coaching & Counselling Facilities

 

Parents Correspondence 

 

Rich Study & Campus Life

 
Admissions Open
2023
Hadaf Colleges are accepting applications for BS courses for 2023. You can apply if you fulfil the criteria for BS English. Applications are available online portal.  
Final Reminder
2023 and the upcoming years are the best years to carry on BS English as a career. This is due to the advancements of the internet and inter-world connectivity. That shaped the world into a global village. Therefore, you can learn, earn, and move forward with BS English from a quality educational institution in Peshawar- Hadaf Colleges.