Computer Science is the base of all the technical advancements today. It is also the future. There is no looking back soon. Therefore, opting for computer science in your intermediate would be a life-changing decision for you. Hadaf Colleges offers faculty of computer science (FCS) for inter in computer science in 2023. Details and future perspectives are estimated in this article.  
FCS- Faculty of Computer Science at Hadaf Colleges
Hadaf Colleges offers faculty of computer science (FCS) at the intermediate level. This program offers a general education that develops the foundation for future advanced and complex concepts. Therefore, students can achieve their dreams regarding computer skills and successful careers.  
Study Scheme and Pattern
Approved study combinations are available for students to choose as per their preferences. However, all such options are at the disposal of the Board of Intermediate and Secondary Education (BISE) Peshawar. As the course from the authoritative body gets any updates, it is duly implemented by the Hadaf Colleges Peshawar as FCS for the appropriate and regulated education.  
As of now, the available combinations are as follows.  
Phy-Math-Comp Science

 

Stat-Math-Comp Science

 

Stat-Eco-Comp Science

 
In addition, the compulsory subjects for intermediate in computer science are the same as other inter disciplines. The list goes as the following.  
English

 

Urdu

 

Islamic Studies

 

Pakistan Studies

 
Intermediate classes are also known as the 11th and 12th classes nationwide. The pattern of examination is the same as that designed and conducted by the BISE. The examination for both years is conducted on an individual basis.  
Duration of Degree
The duration of the intermediate is two years. That comprises separate classes of intermediate part I and part II.  
Proposed Skills After FCS at Hadaf Colleges
Every level of education develops a certain skill set. Similarly, there are few skills that are considered to be under the belt of the student who completes an intermediate in computer science. We at Hadaf Colleges try to inculcate the awakenings, passion, and outlook to develop the necessary founding skills.  
It is essential for a student to know the following skills after they clear their inter classes.

 

Proper knowledge of the basics of computer science. Including history, parts of devices, capacity, and basic concepts with minor programming commands.

 

Sound knowledge of the English language. An ability to read, write, and understand.

 

The sound grip on the pen. Students must know how to draft any letter or expression and how to convey it through writing.

 

In addition, certain skills, though not polished, are good to be there a part of personality. For instance, communication, inquiry, listening, research, adaptability, and curiosity.

 
At Hadaf Colleges Peshawar, our trained and qualified teachers help students to gain knowledge, the answers to their questions, and assistance in learning at any point in time.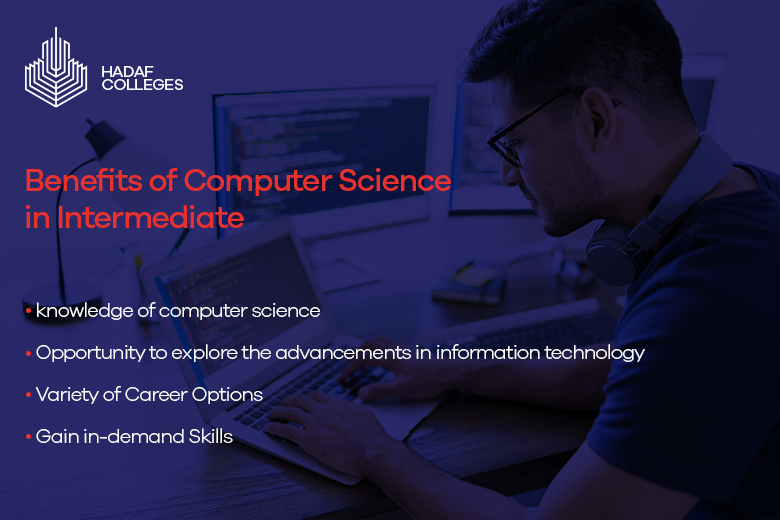 Learning Paths for Future Education
After completing inter-education in computer science with the basics of software engineering and computers, there are ample learning paths for advanced-level education. The advanced level after inter is BS, which offers a four-year degree program in authorised institutions. 
The possible learning opportunities fall under the following titles.  
BS Computer Science

 

BSc Computer Engineering

 

BS Software Engineering

 

BSc Computational Physics

 

BS Hardware Engineering

 
Other Options could also include degrees in the following fields. 
Cyber Security

 

Information Management

 

Information Systems

 

Data Analytics  

 
Career Prospects with Specialisation in Computer Sciences
After we have discussed the advanced level. Let's also look around the possible careers initiating from the intermediate in computer science. You could be anything as your preference from the options below.  
Applications developer

 

Cyber security analyst

 

Data analyst

 

Forensic computer analyst

 

Game designer

 

Games developer

 

Machine learning engineer

 

Penetration tester

 

Software engineer

 

Systems analyst

 

UX designer

 

Web designer

 

Web developer

 

Business analyst

 

IT sales professional

 

IT trainer

 

Nanotechnologist

 

Network Engineer

 

Telecommunications researche

r

 
Admissions are Open for 2023
Now, you have a complete overview of how inter in the computer can be helpful for you in 2023. It is also important to make an intelligent choice with respect to the institution. We are going to tell you why Hadaf Colleges Peshawar will be your final choice for the best learning experience.  
Hadaf Colleges Is a Hallmark Project of the Punjab Group of Colleges (PGC) 
The Standard Of Education Is Well Maintained Throughout the Educational Network.

 

We Have Highly Qualified and Trained Professional Teachers.

 

State-of-the-Art Campuses, Separate for Boys and Girls.

 

Well Develops Labs, Libraries, And Computer Labs for Smooth Learning.

 

Hostel Facility and Transportation Is Also Available.

 

Scholarships

And Financial Assistance Options Are Widely Available.

 

Student Counselling &

Extra Coaching

Facilities.

 

Parent-Teacher Interaction and Correspondence is Regular.

 

Rich on-campus life in terms of academic and co-curricular activities.

 
More details can be seen here.  
Conclusion
2023 is the right time for the perusal of Inter in Computer Science from Hadaf Colleges Peshawar. Admissions are open for 11th classes. Apply online and start today!